Timing Monkey started with the aim of providing affordable, reliable timing solutions for multi-day endurance events, alongside more traditional events such as 10km, half/marathon running events, cycle sportives and triathlons.
We love seeing normal people pushing themselves to see how far they can go, whether that be completing their first 5km run or running over 330 miles to break the Backyard Ultra world record.
We cover events all over the UK, but are establishing ourselves as one of the premier timing providers in the South West, working with many of the event organisers and clubs in Dorset and the surrounding counties.
Meet the team:
Matt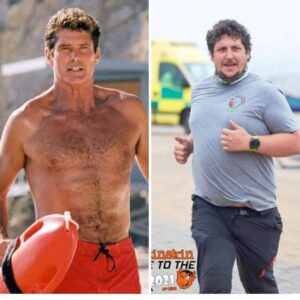 Matt is the Chief Chimp at Timing Monkey, although some argue he's more of a gorilla.
His path to working full time in the events world started with a weekend as a crew member at the Brutal Extreme Triathlons in Llanberis, North Wales in 2016. This led to being asked to work on more of the Brutal Events races, and as a part of the core team for the first DecaUK in 2017. It was at DecaUK where Matt had his first taste of working with timing equipment, and he was given more responsibility on future races dealing with this key aspect of events.
In 2018 he attended a training course with Race Result and their UK distributor to learn more about the hardware and software, and it was here where he first met someone who would later invite him to work full time for an events and timing company. Over time Matt wanted more freedom to work on the events that he was passionate about, and he took the plunge to start Timing Monkey as his own full time business in August 2019. The first 18 months or so were "interesting" thanks to Covid-19, but Timing Monkey weathered the storm and came out the other side looking stronger than before the pandemic.
Matt's sporting background is in triathlon, mainly iron-distance. He's not fast, he's not light, but he enjoys the challenge and keeping going over distances that most normal folk think are stupid. He's a proud member of Bustinskin Triathlon Club in Weymouth and Royal Manor Of Portland Athletics Club on the rock that he calls home.
Matt is in charge of all the behind the scenes work, such as securing work, preparing the software for the various different types of events we cover, and making sure the right equipment is ready for being in the right place at the right time. And washing the timing chips, which is the worst job of all.
Karen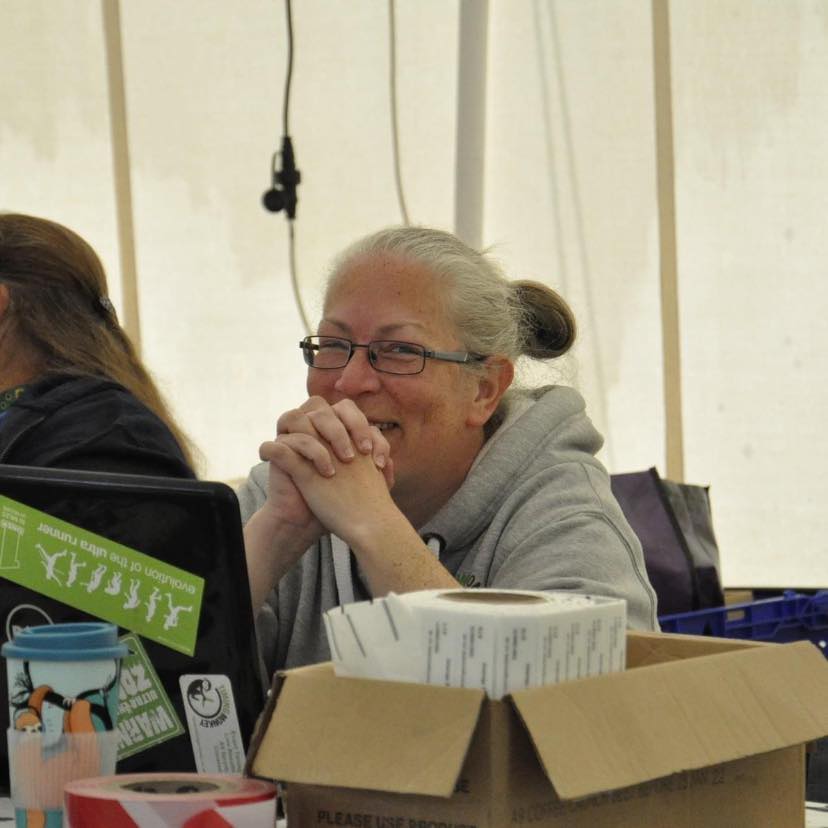 Karen thought she'd got out of working long distance events a few years ago. Alongside her day job, she has been helping at various races over the years, as who really needs any actual downtime? From 6 hour timed lap events up to epic runs the length of Wales, Karen could often be found providing her own unique brand of support and encouragement, and was very much in demand to provide crewing services for runners trying to take on big challenges. She'll do anything she can to get someone to a finish line, but don't expect any sympathy from her.
After drastically cutting back her involvement to make sure she got some time to herself, she then had the great fortune of meeting Matt. So now she's once again back in the thick of it, working her more-than-full-time day job and then timing races as well. As she knows so many people in the running scene throughout the UK she can't keep away, and she's also the reason we have some of the clients that we do as she had worked with them previously.
It would be much harder for Matt to keep Timing Monkey swinging through the trees smoothly if it wasn't for the essential help and support of Karen (and no, she didn't write this).
Kiernan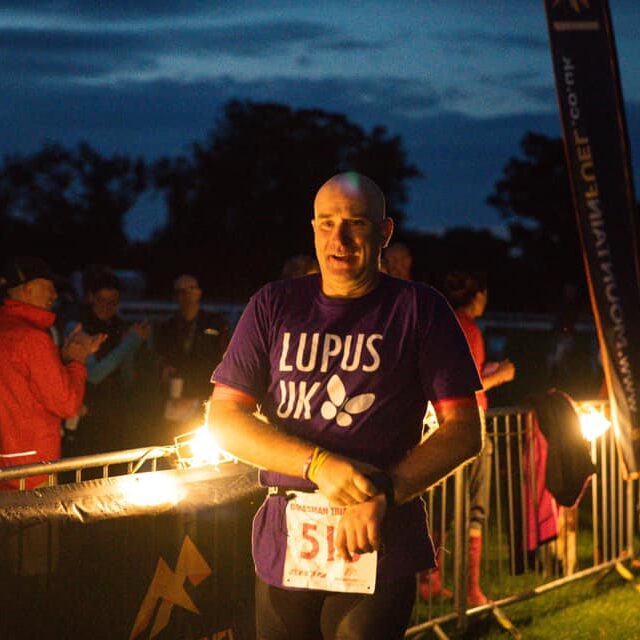 Kiernan became a part-time member of the Timing Monkey team in the very early days. Matt was covering the Round The Rock 10km for Royal Manor of Portland Athletics Club for his previous employer, and Kiernan had shown an interest in helping out. Kiernan knew Karen from working on aid stations at Centurion events, and he had his own events with a pair of friends under the name On The Whistle. He was keen to learn more about how the timing worked, and so volunteered his time for the day.
Kiernan, like Matt, was a fat lad who decided he needed to do something about it. He started running, which along with his physical health had a positive impact on managing his stress and anxiety. After running a couple of marathons, he joined Portsmouth Joggers, and this, along with being a Run Director at Havant parkrun, then setting up Queen Elizabeth parkrun, led to him taking more of a role in putting races on. As well as running his own events, he still volunteers on some fairly large events, often in important roles such as Sector Lead.
The first race that Timing Monkey timed in 2020 was thanks to Kiernan introducing us to the race director. That race was The Junction Broadstone Quarter Marathon on New Year's Day, held by Poole Runners, and we have gone on to have a great working relationship with Poole Runners ever since.
Roo & Skye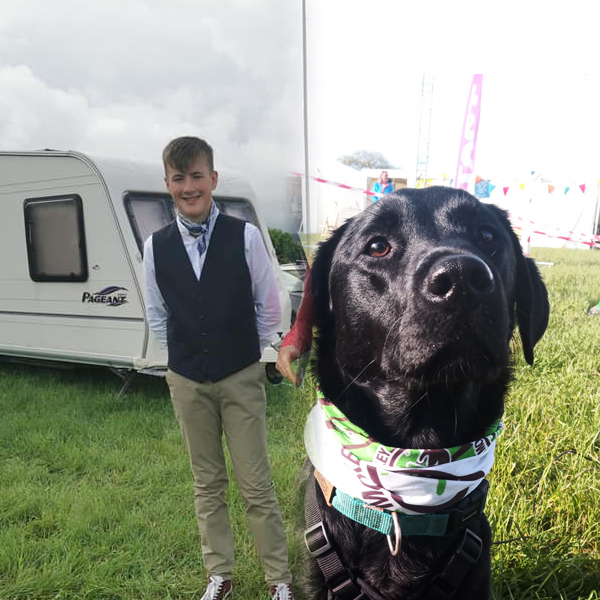 Roo (or Ruaridh, but everyone calls him Roo) is a huge help for us when we're at White Star Running events. He's our Spider Monkey (all legs and arms) work experience/apprentice/designated grown-up, and you couldn't stop him helping out if you tried. Rather than mope around bored waiting for his mum to finish her run sweeping duties in the races, he looks for ways to make himself useful. Once he's been shown how to do something once, he doesn't need to be reminded. He's perfected the art of getting the timing mats in position, connected up to the readers and ready to go before Matt has even managed to get the first (of many) coffee of the day down his neck.
Roo is often accompanied by another of our helpers, Skye. Skye is an excellent timing dog, and despite being a young labrador she's perfectly happy to get comfortable in the timing tent and stay there quietly. Go anywhere near her with one of the legendary ice creams, however, and she transforms into a wild beast…
Matt H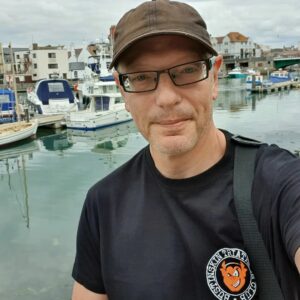 Matt H (or Matt 2) is another keen part-time chimp. He had experience of the Race Result systems that we use at most races as before Timing Monkey was even a thing he was timing the Bustinskin Triathlon Club summer aquathlon series.
He's an avid sports photographer, often seen snapping away at local races, and has had images published in the likes of 220 Triathlon magazine. He loves his gadgets, and his latest project was the development of an automated finish line photo system.
When he's not recovering from yet another injury, he can be found running, swimming or cycling around pretending to be a triathlete. To pay the bills, in addition to working with us whenever we need him, he can be found tucked away in the back of a bike shop swearing at people's bikes as he tries to fix them.